Check out our interview with Young Hollywood's newest Latin-American heartthrob Rico Suarez, who is recognized for his latest roles on Showtime's "Penny Dreadful: City of Angels" and HBO's "Ballers," in addition to countless international fashion campaigns.
From a shy teen diagnosed with anorexia to becoming a hotly-tipped face to watch in Hollywood, Rico hopes to share his remarkable story to inspire other young people to reach for their dreams.
When Rico isn't in front of the camera, he enjoys staying fit and eating healthy. However, at a young age Rico suffered from anorexia. This caused him to be severely bullied as a teenager which led to anxiety and depression. Rico's parents also divorced while he was in high school, and he lived with his mother who was working two full-time entry jobs to make ends meet. Rico then took on the work and took care of his family. All his past experiences (good or bad) have caused him to have a very special outlook on life and he takes nothing for granted. Rico sees them as beautiful and inspiring moments in his life that have shaped him into who he is today.
Follow Rico at @ricosuarez
Hi Rico, please tell us a little about you.
Hey! I am 26 years old. I am Colombian-American. I am an Actor, Model, Philanthropist & Serial Entrepreneur, but most importantly, I am an idealist. I believe anything is possible and I thrive when I hear the word "unrealistic". I am the sole owner of various business entities. I am a real-estate investor with multiple rental properties. I am an author currently working on my second book. I enjoy reading, writing, exercising, traveling, inspiring, and innovating. I am a workaholic.
Describe yourself in 3 words.
Energetic, Aware, Intellectual.
Who was your role model as a child?
Shakira, because it's SHAKIRA! She is a true inspiration, especially in the Latino culture.
How did you get started in acting?
I always enjoy telling this story because it truly was a calling by God. My entire life I was so set on becoming the "first doctor in the family". I devoted a lot of my education and free time to healthcare related things because I thought for sure that was what I wanted to do. Senior year at the University of South Florida, I began modeling and worked with Target, JCPenney, Forever 21, etc. I saw the money and the opportunity for other endeavors. From there, I went to my first audition ever for a feature film that changed my life. Then a callback, which was pretty cool considering I didn't really know what that was. I didn't get that role, which was a lead role by the way, but I left that room with those producers feeling alive. The energy I felt when I was inside that room performing was eye-opening to what I actually am capable of doing. A few months later, I packed all my belongings and took a 36-hour trip to LA from Florida with only $500 to my name to begin a career in acting. I dropped, sacrificed, and risked everything to pursue dreams that I didn't even know I had. I haven't ever looked back since.
How has this changed your life?
Well, for one, I have a lot of money now. Haha. But yes, this changed my life tremendously not only because I enjoy acting, but because this journey opened my eyes up even more by educating myself on other ventures, leading me to own and
operate in just about every industry. It hasn't even reached 2 years yet since I moved out here to LA and I have already achieved all of this. Imagine where I'll be in another 2 years…
Now in the fitness side, tell us about the #1 thing you like about being into fitness.
It is a way of life. I look good. I feel good. I do good. If I ever feel stressed, I exercise and clear my mind. If I wake up and don't have energy for the day, I just force myself to work out and once I begin, the rest is history.
What is the most challenging thing you deal with consistently staying in top shape?
Plateauing. I am always trying to switch it up in both my exercises and meals. I keep the muscles guessing all the time by changing the angles that I work out in to confuse them so they don't adjust. I don't follow a specific routine. It's challenging, but not impossible, to always create new combinations of workouts and meals daily.
What do you eat on a typical day to stay in shape?
Greens & beans. I eat my veggies: broccoli, asparagus, brussels sprouts, etc. I also eat beans which are an amazing source of dietary fiber, protein and other vitamins and minerals. Protein shakes and protein snacks in between!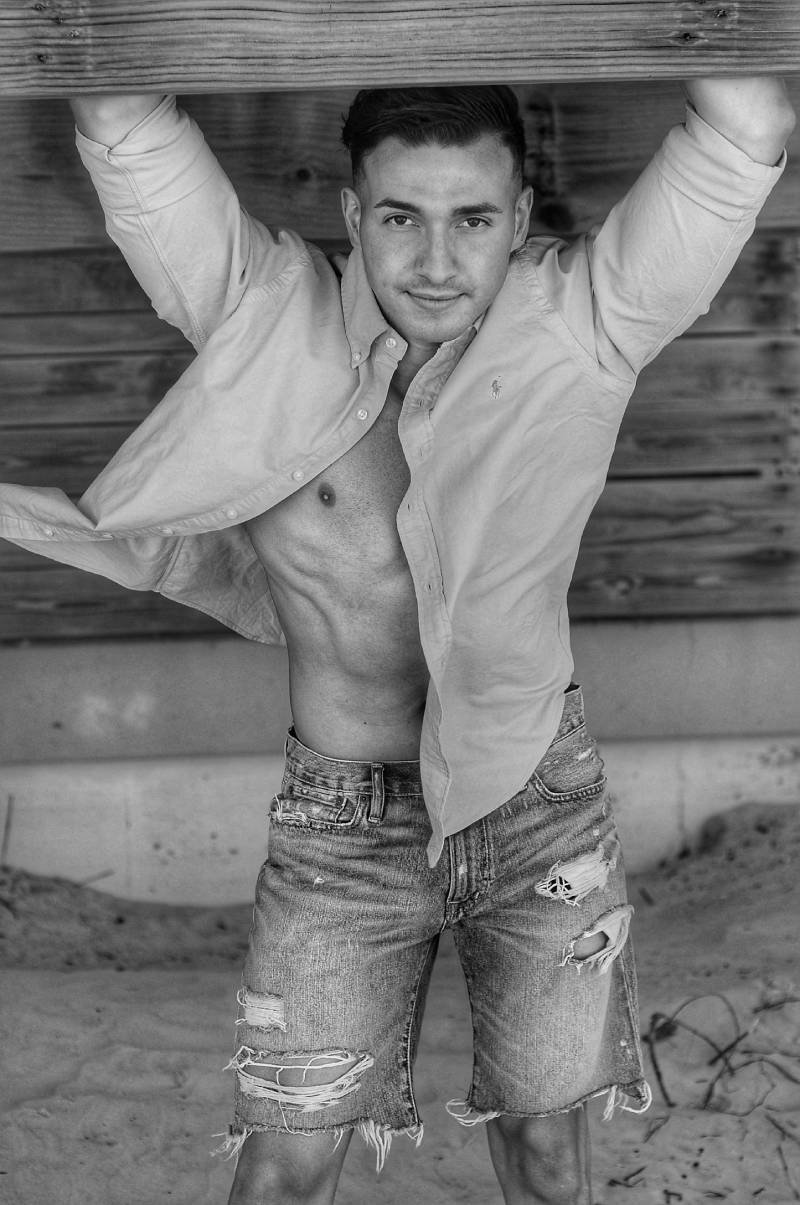 What is your favorite healthy food?
Blueberries
And your favorite cheat food?
PIZZA
What motivates you to keep going and push harder?
All the legends who have died to make the world a better place, the misfortunes of others and God.
Favorite form of cardio?
Sports, hiking, jogging outdoors.
How would you explain your fashion style?
Adidas man. I am an athlete and a fitness enthusiast so you'll see me almost always wearing athletic apparel. Even outside the gym, I will wear Adidas sweatpants with soccer jerseys because that's my style. I own multiple business entities, yet you won't see me wearing a tie. I'll clean up nice when I have to for formal events but I have my own particular style.
What would be a deal breaker on a first date?
Telling me your goal in life is to become an Instagram influencer… You get that a lot in LA. A deal breaker for me would pretty much be if you don't have any ambitions, grace and gratitude towards life. You can tell on the first date what someone's intentions are in life.
What's next for Rico Suarez in 2022?
Greatness. To just work on myself and my happiness.
What is your own definition of happiness?
Progression equals happiness. While reaching a goal, achievements and material objects is satisfying, it is only temporary. If you want to live a fulfilled, happy long-term life, you will need to constantly be making progress in every area of your life. Always striving for progress in any situation or task will lead to happiness.
How is a normal day in your life?
Wake up at 5am. Meditate for 15-30 minutes. Exercise for 1-2 hours. Work for the remainder of the day, whether it is filming, photoshoots, interviews, calls, business-related tasks, etc. Meditate again at night. Sleep at 9:00pm most of the time, sometimes as late as 11:00pm.
What is your idea of a perfect Sunday?
Vacationing abroad, if not, drinking champagne by the beach.
If you would meet someone living or dead, who would it be and why?
Cristiano Ronaldo. I played soccer since I was 6 years old and began watching him when he first joined Manchester United at just 16 years old. He is my idol in soccer. He really monetized that into what he is today and is a true inspiration.
Best advice ever given?
Treat life for what it is, a playground. Consciously, we know that as kids, but as we grow up, we all forget it. Always remember that life is an allusion and you are simply in the playground of your own imagination.
Do you support any charities?
MEDLIFE Movement.
Name 3 things you can't live without?
Books, my intellect & protein.
Where do you see yourself and your career in 5 years from now?
In 5 years, whether receiving accolades or not, I will be working in big films with Martin Scorsese, Steven Spielberg, Quentin Tarantino, Woody Allen and Christopher Nolan. I am an IMG model. I have established 10 more business entities. I am a billionaire. I am the owner of Juventus Soccer Team. I am happily married with my soul mate. I have kids to follow in Papa Rico's footsteps. I am doing what I love each day, growing an empire with the people that I love. I am fulfilled.
Favorite song? Why?
"La Vida Es Un Carnaval" by Celia Cruz. It is a song I deeply share with my Grandma. The best memory I have of her is when I listen to this beautiful warm-hearted song about life.
What music do you like?
Latin Pop and Electronic Dance Music.
What do you think of social media?
Both an insane marketing tool and addicting, self-deprecating platform. From a business perspective, social media can fuel an array of financial wealth and brand exposure. From a personal, consumer perspective, social media can be detrimental to the human mind by constant obsession with comparing oneself to others.
Where can we follow you?
@ricosuarez on Instagram, Facebook, Pinterest, Twitter. Website: www.ricosuarez.com , Store: www.ricogoods.com
Favorite…
Quote: "Just because you lost me as a friend, doesn't mean you gained me as an enemy. I'm bigger than that, I still want to see you eat, just not at my table." – Tupac Shakur
Singer/Artist: Ozuna
Movie: Goodfellas
Travel Destination: Barcelona, Spain
Sports Team: Colombia
TV Show: The Queen of Flow
Book: The Power of Now by Eckhart Tolle, Think and Grow Rich by Napoleon Hill
You can follow Rico Suarez on Instagram, Facebook, Twitter and Pinterest @4realrico
To know more about Rico check out www.ricogoods.com And www.ricoresources.com
Topics
#Hollywood's Newest Latin-American Heartthrob
#Rico Suarez