J.LeGras is an independent artist who originally grew up in Louisiana and began making music at a very early age. Earlier this month he released a new single titled "Talk to Me" and it has already surpassed 20,000 steams on Spotify. His story is a fascinating one and one that has helped him become the talented musician that he is today. This past August he released his latest EP and we took some time this month to catch up with him and learn more about his career and where it's headed.
Everyone's journey in music is different, but J.Legras is one of those people who got their start early and never looked back. We asked him about his upbringing in the music world and how it became his dream, here is what he told us.
"I have loved singing and performing before I can remember anything else in my life. I didn't really watch baby cartoons growing up. I watched music videos and stage performances. That's the only thing that used to soothe me as a baby and Toddler. The same remains today. I have been performing since I was four. Started in the church then gradually went into local and national boys choirs. Then In middle and high school performing solo and part of a choir on the local and state level from both chorus and theater. It's always been a part of my makeup and I wouldn't have it any other way"
The love and passion he has for music are more than evident when you listen to his music. And while he has a style all of his own, you can hear the influences of the past in his sound. We asked him specifically about these and he gave us a pretty talented and varied group of performers that inspire him and his music.
"My top 5 are Stevie Wonder, Prince, Luther Vandross, Maxwell, and MJ. Then it's Usher, Sam Cooke, Freddie Mercury, Al Green, Marvin Gaye, Anita Baker, and Whitney Houston. But, if that doesn't answer your question I would say 90s R&B Is my biggest influence as far as my singing style. Boyz to Men, Dru Hill, Blackstreet, Usher, Tank, Joe, Jodeci, KC & JoJo, and New Edition,
Then of course it's 2000s Neyo, The Dream, Mario, Chris Brown, and Frank Ocean.
At the same time, I'll turn around and name rock band singers like Freddie Mercury, Mick Jagger, and Paul McCartney.
Then of course for Gospel, it's Fred Hammond, John P King, Rance Allen, Donnie McClurkin, Kirk Franklin, PJ Morton, and Last but not least my old choir director Travis Greene.
I have so many musical influences and they keep growing."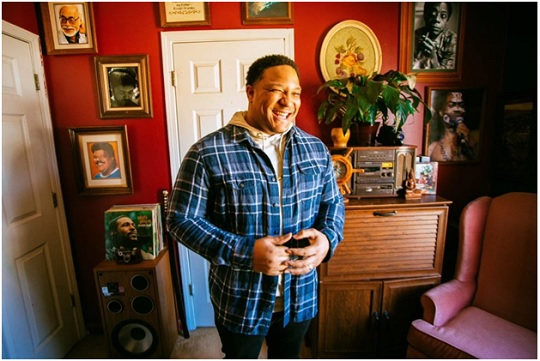 Understanding where J.LeGras came from and what inspires him tells the story of his journey to this point, but we also wanted to check in on the present. The present is centered around his latest single which we mentioned earlier, "Talk to Me". Here's our review.
This song is the embodiment of the Soul. The bluesy riffs, the moving bass lines, the soft drum track, and the powerful and rangy vocals of J.LeGras all come together in this beautiful love story that you can feel in your soul as you listen to it. The track isn't needlessly dressed up or overdone, it's simple yet sophisticated and it's raw and emotional. The exquisite production value allows you to crisply hear each note, word, and sound, and it's just a phenomenal listening experience from start to end.
We asked the man himself about the song and he gave us insight on what inspired him to write it and what he hopes listeners will take away from the track.
On what inspired him:
"I was smoking in a cigar lounge with my wife and we were talking and people watching . And the lounge is already smoky of course so i just started to think about intimate spaces like that. Then I thought if I had met my wife at that cigar lounge, what would the conversation be?"
On what he hopes listeners will take away from the song:
"Intimacy is KEY! I just need you to TALK TO ME. This song is about meeting someone and wanting to talk to them just to engage in a conversation so you can expand your mind and get to know them. Going back to the basics. Let's just talk and get intimate and let me explain to you, what type of love I am going to bring to the table. This song is one of my best songs I have released as an artist. I have been behind the scenes so long so now I am sharing my love and experiences with the world."
The song is honest and intimate and that's the message that J.LeGras wants you to hear in it. That message resonated with us and the song's early success is an indication that listeners are feeling the same.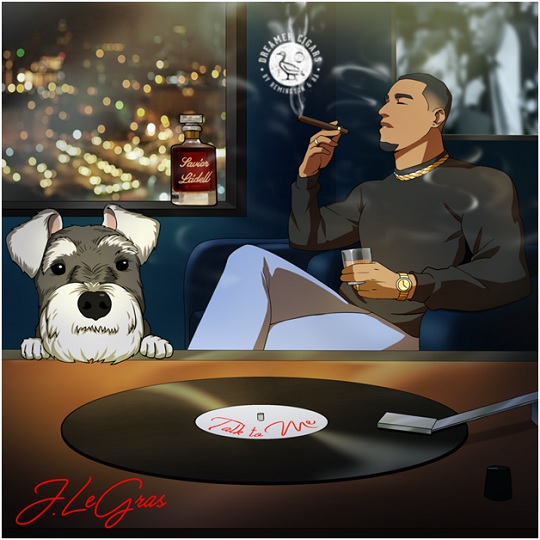 With the success he has reached as an artist, we couldn't help but wonder what's on the horizon for this blossoming and talented singer. So, we asked him what's next for his music career. Here's what he told us.
"I would say growing my fan base and performing more. I am 100% independent so I am excited about my growth and to just collaborate with more and more people in the music industry. My plan is the replace my 9-5 with music full time so I can give it 200% instead of the 110% I'm giving it now "
It's not surprising to hear an independent artist say that their goal is to turn music into their full-time gig, but we think J.LeGras has a real shot. His music is thoughtful, full of talent, and crafted professionally. He clearly has both the experience and the drive, and he seems to only be getting better with age.
The last thing we wanted to pick his brain about before finishing our conversation was why he thought people should check him out.
"I Sing Soul Music that's good for the soul. Very Plain and Simple. If you want to hear me incorporate all my influences throughout my career buckle up and get ready for a hell of a career. I am just getting started. I want to explore more in other genres. Though R&B is my foundation, it definitely is not my whole existence."
Raw, honest, and emotional. These are three words that come to mind after hearing his music and getting the chance to chat with him. All we can say is, if he isn't already on your radar, he should be now. Check out and follow J.LeGras with the links below.
Topics
#J.LeGras