Salar Bilehsavarchian is the man who made new fashion in Iran, Bilehsavarchian was born on 1st May 1993 made camp traditional religious clothes inspired by Notes On "Camp" Susan Sontag Published in 1964, he made many personas as a gender player nude, latex and gas, turabn and made thwab fahsionable, Kurdish and folks Camp; it means esoteric… tactical desert head pieces designs, burqa but not traditional in a way that people expect but Camp, four of his iconic street looks; one is with checkered chad·or with tight long wrist when islamic people looking at him very astonished, another persona can be the double side of "I want you for U.S. Army : nearest recruiting station " with a Sinister laughter putting his signature belt on coming through, On the other hand of that Uncle Sam laughing at the viewers in order to recruit soldiers for the American Army during World War I; unconventional contemporary low top hat very surreal hair flipping drastic face, downtown minimarket behind him with four shocked people, third is his Golden olive high waisted trousers with a shoulder cape in front of fruits that his shadows fallen on pomegranates, his fourth stage in the streets is his shocked face in Tajrish Traditional Bazaar between people, on the other side as a student he took classes of Ehsan Shariati, Ali Shariati's son for Metaphysics back in 2011 (PORSESH: The Institute of Political Economics Studies) Saleh Najafi and Babak Ahmadi as well he was even earn professionalise personality for discipline and hard-work with visual merchandising, most of the shop's of Tehran visual merchandising and gained lots of experiences with hundreds of cohort from not just Tehran but other cities as well. He wanted to experience all sides of getting under control of a boss at the same time university, 10 hours per day merchandising, his own creative process, reading and analyzing art, back in high school years he was a neophyte for Islamic of Iran broadcasting in high school years for directing and putting shows on for television, he made many documentaries that argue about Iran's rich culture, After sewing classes at the same time university he made his collections he made clothing's for Xtina, Erykah Badu, Róisín Murphy, Boy George and Ellen von Unwerth and Nobel Prize winner Patti Smith also praised him as a punk literature icon and someone that his work encompasses all roots, even Patti Smith his idol sent him special gifts, he took instagram as a platform to show his abusers to the art-world, Tom of Finland Foundation released a warning about Bil with the Quote "I've got great things to come." although you can get in trouble in Iran, but Bil is always living his truth and not like the abusers or queers who are not standing for their people's rights. Iran's entertainment channel's like Manoto even talked about the abuse and after he fought the law, Christina Aguilera for Pride 2022 Chose Tom of Finland as a phallic woman for Bil, and that was the answer of great things to come, Even though Daniel Lismore warned that "Oscar Wilde was put in jail, why has not humanity learned" and Bil answered "Some commentators have suggested that The Picture of Dorian Gray was influenced by the British Prime Minister Benjamin Disraeli" but they imprisoned him. Tom of Finland's collaboration with JW Anderson, Comme des Garçons to Diesel is famous, Bil wrote about sustainable fashion in a book and social medias and a Phallic icon for sustainable fashion is tributing to traditionally masculine characteristics, a fantastical impossibility from U.S. on the other hand even Erykah Badu offered him collaborations with Off-White™ and Marni but Bil explained that friendship is honest not work and the important goal is protecting mother nature, the forefather of conceptual fashion after his collection about an anti-Iranian regime warned Saber Abar and Pantea Panahiha that if you threat me for police violence because i've been sexually bullied by you, i'll take my rights from you not even mine but my girls and other queers, but they imprisoned and financial penalty him even though they asked for many clothes and did not even give him a cup of tea and drank alcohol that islamic unallowed it and even sexual bully in public place, the interesting is that Bil had many offers from stars of Iran that he rejected but he let them in because of a old vicinity and neighborhood like when Jesus said love you neighbor he knew your neighbor would act, Look.
Believe and love
Differently than you, after he get under the control of doctor and healed himself better than before, healthier than abusers; he explained It was about 2016 that in IR TV I was introduced as a criminal. From that day I became pessimistic about my profession because, in any way, fashion could be considered a crime. Anyhow, I stepped back for a while but understood that I could do nothing and had to do something. I come from a punk background, even Bionic's sub-genres created by creators like Le Tigre, Peaches and many more came from that background & i totally liked that as a compliment and everyone knew that I wanna dive into a post-feminism futuristic concept and i totally knew my plan for the next years, it made me the openly queer artist that is fine for me and my family; we are truly proud of our own real authenticity lifestyle, many people admire Fereydoun Farrokhzad, Bahman Mohasses and openly queer men in Iran, I empower all my friends to be revolutionary and strong, On the other hand he loved those hypocrites and wanted to teach them this is accuracy and taking care of each other not threat, Xtina quoted for Salar Bil as Tom's ambassador "From the green palette being a take on the legendary & controversial artist Tom of Finland's artwork and imagery." Pride 2022, The modernist aesthetic of fashion is used to express group and, especially in recent years,  counter-cultural solidarity. Social and political dissidents have created special forms of outfits to express revolt. Today, social rebels have made of their use of fashion a kind of avant-gardist statement, and surprisingly #MeToo movement began in Iran! He explained that I thought for a while and came to the conclusion that the reason I was convicted as a criminal was a lack of enough educational background in fashion, so I started writing about the history of fashion. While writing, I realized the impact of social media and networks, which play a much bigger role today than they did yesterday. Maybe that's why I chose to write here. The problem of media also plays an important role in promoting fashion. In Western countries, it is the mass media that promote the trend in fashion and give space to trend makers. But in Iran, the media works with other mechanisms, and there is no doubt that trends are different in Iran. This different context has also created various problems in terms of definition, which should be discussed on these definitions. The simplest definition that can be given to media is that media is a means of conveying information or data. The term media is used in its modern sense by Marshall McLuhan, who believed: " The media are not toys; they should not be in the hands of Mother Goose and Peter Pan executives. They can be entrusted only to new artists because they are art forms". The term was used in Western countries in the mid-1960s, and the term "mass media" has been used in the United States since the early 1923. The material production of cultural objects, Bourdieu argues, is only one side of their production. The other side is symbolic production; that is 'the production of the value of the work or, which amounts to the same thing, of belief in the value of the work'. Symbolic objects are artefacts in which beliefs are invested, and the role of the researcher, Bourdieu stresses, is to unravel the ideologies hidden behind them, such as the '"charismatic" ideology' of the creators as sole authors of their work. This ideology is the result of symbolic production – a type of production which aims at 'ensuring the ontological promotion and the transubstantiation' of the product of material creation. The creation of the fashion label ('griffe') is an example of such a process of transubstantiation. The label transsubstantiates the material object it is applied to, which then takes on the high value attached to the name. The label does not change the materiality of the product, but its social characteristics. It is 'the perceptible manifestation – like the signature of a painter – of a transfer of symbolic value'. The conflation of fashion magazines with women's magazines, and the related distinction between fashion titles and men's titles, is an outcome of the large amount of space devoted to fashion in women's magazines, itself rooted in the importance of appearance and dress in definitions of femininity and the feminine gendering of fashion. An analysis of the symbolic production of culture as it takes place in discourses on cultural objects allows the researcher to understand this process of transsubstantiation. 'A rigorous science of art', Bourdieu notes, must 'take into account everything which helps to constitute the work as such, not least the discourses of direct or disguised celebration, which are among the social conditions of production of the work of art qua object of belief'. A variety of institutions – magazines, museums, education – Bourdieu also notes, participate in this process of symbolic production, a production which is also that of the 'universe of belief' which is attached to cultural artefacts. They are 'institutions of diffusion or consecration', whose role is to institute reality. Thus 'Fashion discourse', Bourdieu and Delsaut argue, drawing on Austin's idea of performative utterances, is a particular case of 'celebratory discourse'. So are publicity and literary criticism, and 'all such discourses share the feature of describing and prescribing at the same time, prescribing while appearing to describe, uttering prescriptions that assume the form of descriptions'. Similarly, Foucault's analysis of discourse does not aim at interrogating texts, which, he argues, should be left to hermeneutics. He does not aim to produce literary commentaries, but an analysis of the possibilities of enunciations of texts, their 'conditions of possibility' and 'conditions of appearance', the 'how' of texts rather than their 'what'. However, the media in IR has in different trajectory and all of these words for this time and space seems non-sense. Consume and consumerism are vital elements of today's fashion industry. Without the consumer society, the fashion world does not exist. This is why in most of my collections I insist on the consumption model. and if one examines this model, one finds out that how fashion is consumed. As Baudrillard believed, "There is all around us today a kind of fantastic conspicuousness of consumption and abundance, constituted by the multiplication of objects, services and material goods, and this represents something of a fundamental mutation in the ecology of the human species. Strictly speaking, the humans of the age of affluence are surrounded not so much by other human beings, as they were in all previous ages, but by objects. In fact, in consumer society the objects are consumed and so can one consider fashion as object? Has fashion reached to the objectivity? Is this objectivity clearly visible in Haute Couture? For sure, after minimalism in art, fashion undergone radical changes and by this, we can consider fashion as an object among other objects. But consumption models show that they are not so environmentally friendly. Environmental activists like Greta Thunberg accuse fashion industry of hypocrisy. Can this charge be imposed on the fashion industry that shows itself environmentally friendly?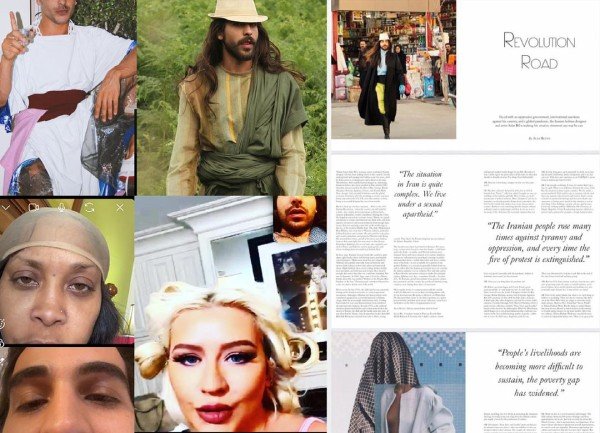 He paved the way after Christina Aguilera, Erykah Badu, Patti Smith, Vivienne Westwood® and many more independent artists as well, hardcore expression is a part of showing politic of fashion, he threw his abaya in Tajrish streets in his "dirty" street performance aggressively and danced in front of mosque, many personal bloggers shared his revolutionary performances, He explained i'm a essence of all these artists, To most people, fashion can daze and confuse. On the one hand, fashion professionals often feel overwhelmed by the pace of change in the industry, as well as by the pressure exerted on them to squeeze a living out of an inherently creative process that is undoubtedly a form of artistic expression. In a rare interview given to Le Monde Magazine, the celebrated, Tunisian-born, Paris-based fashion designer Azzedine Alaïa complained: "Why do they force fashion designers to produce, produce, produce? Productivity, productivity, budget, productivity. […] Today, the only thing I want is more time to be creative! […] This is all I want: to do my job as a couturier, but do it well. Otherwise, I'll leave the field." This is quite a striking comment made by one of the most influential designers in the world and a remarkable expression of the key tension that exists in fashion between creativity and financial profit. Fashion consumers, on the other hand, have a hard time figuring out what drives fashion change, and how to make sense of the new styles and designs that are put forward at least twice a year. The mystery surrounding fashion feeds rumors and conspiracy theories that some actors of the industry manipulate the public – fashion magazines, for example. The desire of the public to know more about who makes fashion, and how it is actually produced, has led to the emergence of extremely informative documentaries like The September Issue (2009, by R. J. Cutler) that describes the day-to-day work of Vogue's British-born editor, Anna Wintour, or The Day Before (2009, by Loïc Prigent) that gives unprecedented access to the actual making of a fashion collection. The lack of clarity about what fashion actually is, and the widespread frustration among customers that goes with it, is not new, and is inherently intertwined with fashion itself. To be clear, and slightly contentious, there has been no real willingness so far on the part of fashion professionals to be too explicit about the fashion production process. After all, fashion is based on the constant replacement of goods (clothes and other artifacts) that do not need to be replaced. The objective of this essay is to clarify what fashion is about, and what its underlying mechanisms are. This is not the first effort of this kind, but it will attempt something new by extracting the substance of academic work on fashion and confronting it with professionals' reports on their own practice. In other words, this essay will address the long-standing divide between theories of fashion and fashion as a living social phenomenon outside academia. "Lifting the veil" on the fashion industry – unveiling it – implies looking at this object historically, not just in passing by making pleasant and entertaining references to historical anecdotes, but by fully engaging the origins of fashion and its evolution. Fashion here and now is specific, but its underlying mechanisms go back a long way. A striking fact that appears from a review of the academic literature devoted to fashion – whether it is in the fields of cultural studies, economics, history or sociology – is that many authors begin their discussion by lamenting the lack of research on this topic. They usually explain this by a disregard for fashion on the part of the social-scientific community, who purportedly consider fashion superficial, or the expression of a social manipulation by upper classes and conglomerates that seek to artificially sustain consumption. Yet, as explained by Italian sociologist Nicoletta Giusti, the 1990s and 2000s have seen the emergence of an interdisciplinary research agenda on the rich and fertile subject of fashion, sometimes collectively referred to as "fashion studies" or, probably more accurately, as "fashion-ology," a term coined by Japanese sociologist Yuni Kawamura. Fashionology is thus, first, a place where the various social sciences meet around a common purpose – understanding fashion in a scientific way – and, secondly, an attempt at reconciling the rhythm of fashion, that of permanent renewal, and the rhythm of science, in which facts are analyzed and theories constructed and then tested. Fashion has struggled to establish itself as a legitimate subject for research because of its complexity and ambiguity. As pointed out by American economist Richard Caves, the creative industries in general (such as music, movies, publishing) and the fashion industry in particular, are characterized by a lack of data. This lack of data, which comes from the difficulty of measuring creativity, style, and culture in general, is a serious obstacle to the scientific study of fashion and other creative industries. Moreover, the definition of fashion itself is ambiguous. Indeed, fashion can be understood in two ways. First, it can be defined as the apparel and luxury industries (to which cosmetics may be added) in which multiple actors, such as professionals or firms, develop careers and strategies in order to produce designs and garments that will appeal to customers. This perspective also includes the consumption patterns of individuals, groups or social classes that use clothes to define their identity. This definition of fashion as an industry largely overlaps with the theme of "adornment," but is distinct nonetheless. Adornment includes not only clothes but also their associated ornaments, such as accessories, jewelry, tattoos, makeup, and the like. Thus, it can exist outside of fashion as an industry. Second, fashion can be defined as a specific type of social change, regular and noncumulative, deployed across multiple domains of social life beyond clothing. Fashion as a type of change is regular because it occurs at constant and often short intervals, for example twice a year in the case of apparel and its spring / summer and fall / winter collections. It is noncumulative because it does not add new elements to past changes: it replaces them. Thus, change in fashion differs from what happens, for example, in science or technology, and even in the arts, where change is (most of the time) cumulative. Indeed, as explained by the Austro- British philosopher of science Karl Popper, scientific discoveries do not emerge from an intellectual vacuum, they are built from previous work by integrating solutions to its challenges, as in quantum physics vis-à-vis Newtonian physics. The American philosopher of science Thomas Kuhn defended a similar idea but in the specific context of what he called "normal science," where the main assumptions made by scientists are not challenged, and where new scientific discoveries are incremental. Similarly, a technological innovation always emerges by connecting innovations belonging to previously unconnected social worlds, such as in the case of the light bulb, which was not invented by Thomas Edison alone but by his team of researchers who had tested a large number of ideas and technologies before developing their own invention. In the arts, an artistic movement is never completely new and is always developed from existing forms, as in the case of rock and roll which was derived from blues and country music. Finally, fashion as a change occurs in many spheres of social life beyond clothing, for example in the attribution of names to newborns by their parents, in the adoption of new ideas in management science, or in the evolution of facial hairstyles in men. The fashion and luxury industries constitute a major economic activity, although their importance is constantly underestimated. According to market research firm Euromonitor International, consumer expenditures in this sector represent nearly 6 percent of world consumption, all subsectors considered, with US$1,696 billion in 2010 for apparel (clothing and footwear) alone, to which US$339 billion for jewelry, watches etc. can be added. By comparison, the automotive sector (the purchase of cars, motorcycles, and other vehicles) constitutes just less than 4 percent of global consumption, and communications spending represents only 3 percent. Beyond its importance as a business activity, fashion is also a singular object, at the crossroads of art and commerce. While biannual fashion shows in New York, London, Milan, or Paris are an opportunity for fashion designers to display their artistic talent to the world, and dazzle their audiences, the fashion houses must handle, on a daily basis, very concrete issues that can have a critical impact on their survival, like deciding prices, determining the location of their factories, defining their distribution channels, or elaborating their advertising campaigns.
He also explained that fashion of politics is my mask of different side of Islamic's regime, I have many personas and no one can define me there are many sides of me, Was fashion for Iran Hijab? Was fashion born during the European Renaissance? In the early twenty-first century, fashion is so pervasive that it seems inherent to social and economic life, almost a "natural" thing that no one can escape. However, fashion as we know it – with its powerful industrial infrastructure, its widespread appeal as a career, and its media omnipresence – has not always been around. When and where did it appear? As pointed out by American historian Sarah-Grace Heller, the dominant position among scholars is that fashion originates "in the West in the fourteenth- or fifteenth-century courts of Burgundy or Italy, or more generally with the era referred to as 'Early Modernity,'" that is to say with the European Renaissance, usually considered to have started in the fourteenth century. This academic standpoint on what constitutes the "cradle of fashion" derives from the work of French historian Fernand Braudel, who saw the constant and regular change in dress as a byproduct of the emergence of modernity in Europe. Braudel's central thesis is that fashion is what sets the West apart from other civilizations that have not known anything comparable until very recently. American sociologist Fred Davis offers an additional take on the dominant view that fashion, as we know it today, was born in Europe at the end of the Middle Ages: There are, to be sure, scholars who claim to detect phenomena akin to fashion among other peoples and in past civilizations. None, however, carries the claim so far as to maintain that fashion – in the sense of a continual, largely uninterrupted, and ever more institutionalized succession of stylistic changes in dress, adornment, and decorative design generally – has existed anywhere other than in the postmedieval West. It should be noted that other researchers, even in the West, offer alternative perspectives, and that there is no consensus regarding the theory of fashion beginning with the European Renaissance. For example, French historian Philippe Perrot places the emergence of fashion much later, around 1700 in Europe, although he identifies some initial signs of fashion as early as the Middle Ages. For Heller, however, it is futile to seek a single source and starting point of fashion. Defining such an origin depends on how fashion is defined and on the questions the researchers looking for the origin of fashion are actually trying to answer. There exist many regular noncumulative changes in dress in societies as remote from Europe as fourteenthcentury Japan, where telling someone they are "up to date" ("imamekashi") was considered the highest compliment one could make. Similarly, Heller explains that the very idea of fashion being born during the early fourteenth century in Western Europe arises because there is an abundance of historical material on the types of dress prevalent during that specific time and place, while the historical sources from earlier periods, and other civilizations, are far rarer. In other words, the reason why many researchers saw, and still see, fourteenth-century Europe as the origin of fashion is because this specific time and place was the first one for which they had significant sources to analyze. More specifically, Heller mentions a study by Paul Post as the actual origin of the idea that fashion was born in Renaissance Europe. She notes, however, that Paul Post himself had only developed an argument about the origin of modern male dress, not about the origin of fashion as a whole. Post's study was thus mischaracterized by those using his work to define an origin of fashion. Heller's argument, that fashion can be found in other times and other civilizations, has been further developed by many other scholars, for example, Australian historian Antonia Finnane, who studied fashion in China. For her, it is clear that fashion existed in China well before the twentieth century. It was simply ignored by Western scholars not only because of the lack of adequate sources, but also because, historically, Western scholars have shown little understanding of, or interest in, Chinese culture. The idea that fashion originated in the West, sometime after the Middle Ages, can also be challenged by a simple look at the work of Greek and Roman philosophers: they did not ignore fashion, though they did systematically subordinate this topic to what they saw as a more important subject – luxury. This is notably the case with Plato, who saw in luxury a significant source of political conflicts and dissensions. In the Republic he describes what the ideal state (or ideal city) ought to be. Such a state, he explains, should use the resources that are directly available to its citizens, and nothing more. Any addition to what is strictly necessary – i.e., "luxury," such as jewelry, arts, fine foods or wines – leads states to look for scarce resources elsewhere, in neighboring states, and to start wars. For Plato, war is thus a consequence of luxury. Moreover, Pliny the Elder, a Roman naturalist, philosopher, and historian who is best known for his harsh criticism of gold and money, has also described in his most famous work Naturalis Historia the changing fashions in the usage of rings during ancient history. In sum, fashion has always existed in some form, and it is a phenomenon that goes well beyond Europe and predates the Renaissance. Yet, it is during the European Renaissance that fashion, as we know it today – powerful, widespread, omnipresent – appeared. In this sense, the dominant view in history and sociology is justified, although it needs to be refined. Capitalism, which started its ascent during the Renaissance, allowed the emergence of a new class, the bourgeoisie, which openly confronted the aristocracy. This period is characterized by a certain political tranquility in Europe, with the end of the invasions, and by intense scientific and economic transformations that challenged the traditional hierarchies. And view on Daniel Lismore's personages with Kate Moss & David Lachapelle as his figure is that Daniel is his rock, his better half, He even wear Burqa for Bandar in ARTE channel with Etta James music with Bil's trash cou·ture, behind his book "Daniel Lismore: Be Yourself, Everyone Else is Already Taken" inspired by Oscar Wilde Quote is Bil's garment, he is always pushing Bil to be the best designer he is, but Bil after getting the master degree quit totally, He believed he is nothing in this trouble world. Bil on his Instagram paid attention to Freud about Daniel as his figure wearing that garment he considered that at the phallic stage of early childhood development children of both sexes attribute possession of a penis to the mother—a belief the loss of which helps precipitate the castration complex. Thereafter males may seek fetishistic substitutes in women for the lost penis in the form of high heels, earrings or long hair to alleviate the castrative threat—terrifying phallic women such as witches (with their broomsticks) representing the failure of such substitutes to cover the underlying anxiety. The female, whose love (in Freud's view) was originally "directed to her phallic mother",may thereafter either turn to her father for love, or may return to an identification with the original phallic mother in a neurotic development & Xtina paid tribute to Bil as a legend phallic icon inspired by Tom of Finland, as he is the ambassador of Tom and the fact is men do not logically bully like Can't Hold Us Down music video, that's anima projection; Tom is about masculinized homoerotic art, and for his influence on late 20th-century gay culture. He has been called the "most influential creator of gay pornographic images" but the erotic question is about that Kate Moss and David Lachapelle's Picture of Bil also is like Hasan the Bald, He opened many psychological stage of fashion in Iran, Hasan the Bald without having superego protection went for his journey in life with his t'other til death in chamber. Some of the best people in history time speak now only in this dark language. Their grave voices have to compete with the jingles of happy consumption, the only widespread form of contemporary optimism.
Raymond Williams, 'Walking backwards into the future', New Socialist, May 1985, p. 21. whether the acute new awareness of self—its demands, its privileges, its rights—that had invaded the western psyche since the First World War was a good thing or a largely evil consequence of capitalist free enterprise…whether people had been media-gulled into self-awareness to increase the puppet-master's profits or whether it was an essentially liberalizing new force in human society.
John Fowles, Daniel Martin (Jonathan Cape, 1977, BCA edition, p. 555). The basis on which good repute in any highly organized industrial community ultimately rests is pecuniary strength; and the means of showing pecuniary strength, and so of gaining or retaining a good name, are leisure and a conspicuous consumption of goods.
Thorstein Veblen, The Theory of the Leisure Class (1899), (Mentor, 1953, p. 70). I always think about the meaning of our lives as consumers. As well I am concerned with leisure, lifestyle, and markets in today's consumer culture. In 1986 one measure of people's use of time in Britain identified television watching as the major activity for both men and women outside paid employment and sleeping. On average, women watched slightly over three hours a day of television; men a little more. But if we look at the range of consumer activities and leisure spending in people's daily lives it is clear that much more goes on in the home, around and beyond the television set. Nearly one in three people in this survey have an alcoholic drink at home; one in five or so regularly eat at fast-food restaurants and one in thirteen bring the fast food home. Home entertaining is quite regularly engaged in by 6 per cent of the sample. Although this may not sound many, it represents several million people in Britain. That is a far from insignificant 'group' of consumers. Over a quarter of a century ago J.K.Galbraith observed, in his classic critique of modern consumer society, the need for a 'theory of social balance', for a combined concern with publicly provided services and privately produced goods. His vision of the imbalance at the heart of the postwar affluent society became one of the most widely quoted cultural comments of our time: The family which takes its mauve and cerise, air-conditioned power steered and power-braked car out for a tour passes through cities that are badly paved, made hideous by litter, blighted buildings, billboards, and posts for wires that should long since have been put underground. They pass on into a countryside that has been rendered largely invisible by commercial art… They picnic on exquisitely packaged food from a portable icebox by a polluted stream…It's all there in this passage: family-based conspicuous consumption; indulgence alongside neglect, boom running side by side with blight; the intrusion of the copywriter into the natural environment. Galbraith was warning the advanced industrial world, the capitalist world, that if pursued as a major social objective, production would lead to modes of consumption taking place against a backcloth of neglect of public needs. Debates on the exploitative dimensions of contemporary capitalism have focused upon the experience of work, the nature of paid labour. The political dimensions of patterns of consumption have received little comparable sustained attention. Yet it is particular modes of consumption upon which many major productive processes now depend. Galbraith urged, quite rightly, the need to develop a balance between the public and the private, between state services and private enterprises. Margaret Thatcher sees a great industry. In packaging people's pleasure, and constantly searching for the most lucrative novelty, this leisure and tourist industry prospers in a Britain in which the imbalance pointed to by Galbraith is as prominent as ever. The examination of patterns of consumption and leisure is a key contemporary task. For it raises hugely significant questions about what we believe and think, how we arrive at our beliefs, what we do, and how our actions express particular beliefs or values. Propagandists of the new right know this, which is why the apparent paradox of the new plastic usurer-culture is so perfectly in line with their views. Although the rhetoric of Mrs Thatcher conjures up the jam-jar cash economy of the kitchen, her economic growth is dependent upon spending before saving and her ideological hold is premised upon a notion of freedom in the marketplace. As we pass the end of the second millennium, we see '2000' used as a dramatic landmark in the development of human civilization. But if '1984' symbolized debates about political freedom and citizenship, '2000' might come to symbolize issues concerning economic freedoms and consumerism. In Britain media institutions already offer an example of how things might move. Rupert Murdoch's takeover of The Times, for instance, led to the appointment of an editor whose editorial direction was, in Hugo Young's words, a drift from the notion of citizen as victim to a notion of citizen as consumer (New Statesman, 2 November 1984). We have passed 2000. Many of us may be free. But free for what? By then, worldwide, the sign of satisfactory survival well is the colour television set and video, the personal transport system, the personal organizer, the personalized deodorant. It is in the sphere of consumption—conspicuous leisure on the basis of adequate disposable income—that many will seek to express their sense of freedom, their personal power, their status aspirations. The effect of such a trend upon collective consciousness and cultural relations in particular societies cannot be understated. Popular culture and everyday life have always been of great concern to our political and economic masters. If popular culture can be reduced to a set of apparent choices based upon personal taste then we will see the triumph of the fragmented self, a constant lust for the new and the authentic among a population of consumer clones. That is why the issue of leisure, lifestyle, and consumption is a political one. If religion was, in Tawney's celebrated phrase, vital to the rise of capitalism, it is consumption which has become vital to its continuation and expansion;// No ideas but in things.
–William Carlos Williams
I fall to pieces each time I see you again.
–Patsy Cline/ On his fantastic travels, Lemuel Gulliver encounters scholars busily inventing new forms of language. These include a large mechanical device that makes texts at random, an attempt to reduce language exclusively to nouns, and, taking that idea to its logical conclusion, the practice of substituting objects for words. From the perspective of the twenty­first century, Jonathan Swift's descriptions sound like a prescient catalog of avant­garde practices. Indeed, his story of a language made of things seems like an allegory of the twentieth century and the rise of art under the sign of mass production and the commodity form. As Gulliver puts it: "An expedient was therefore offered, that since words are only names for things, it would be more convenient for all men to carry about them such things as were necessary to express the particular business they are to discourse on."For Swift, the eighteenth­century satirist, the joke is at the expense of these would­be experimenters, for surely there is just too much in human experience to be reduced to a set of brute, material objects, and certainly these fools are missing the very point of language itself–a more convenient and efficient form. And yet, from our vantage point three centuries later, it seems clear that marketers seek to reduce almost every human desire, thought, or experience to the commodity form. Indeed, in the consumer economies of the Global North, we now do a vast amount of communication through just such brute and material things, and much as Swift imagined it, we seem to use our designer clothes, customized kitchens, and electronic accessories to explain who we are: human experience has never been so overwrought with things. Indeed, rather like the Laputian experimenters, we find that the most seemingly successful among us exist more in a world of things than of words, much as how Swift describes the mad Laputians: [M]any of the most learned and wise adhere to the new scheme of expressing themselves by things, which hath only this inconvenience attending it, that if a man's business be very great, and of various kinds, he must be obliged in proportion to carry a greater bundle of things upon his back, unless he can afford one or two strong servants to attend him. I have often beheld two of those sages almost sinking under the weight of their packs, like pedlars among us; who, when they met in the streets, would lay down their loads, open their sacks, and hold conversation for an hour together; then put up their implements, help each other to resume their burthens, and take their leave. (178) In this language game, one's range of expression is tied directly to one's wealth, for what one might say is in direct proportion to the objects one carries. Swift's historical position at the beginnings of consumer society renders our contemporary interpretation of this activity far more forceful, for while Swift notes that these interlocutors resemble "pedlars," they are different in that they do not sell their vast bags of objects but make rhetorical use of them. Swift cannot quite put his finger on just what this practice might be, for he lacks its true name: consumption. Perhaps a time­traveling Gulliver would not be at all surprised to come face­to­face with the work of Heidi Cody, a contemporary artist responding to a world of commodities through the use of readymades, collage, and the multimedia techniques of contemporary marketing and advertising. "As Americans, we are surrounded by the white noise of our consumer culture," explains Cody in her artist statement. She readily admits her complicit role as a consumer, "but with the critical perspective of a cultural anthropologist. I hope my overall body of work will eventually be seen as a sort of art documentary about advanced consumer culture."One of Cody's most striking works is a series entitled American Haiku, which includes the piece entitled American Haiku–The Mountain. Like her Laputian forebearers, she too takes objects out of her bag, creating a haiku. While Swift's experimenters make a concerted effort to abandon words and communicate only through things, Cody's work testifies to a much more radical transformation. Even words themselves have become things, under the signs of brands and labels, packaging and marketing: just so many objects that make up the commodity horizon of our everyday lives. Unlike Marx, with his endless examples of unnamed, unbranded commodities (one ton of iron, ten shirts, a bushel of corn), commodities are now veritable words: soap has become sunlight and dawn, while toothbrushes reach and toothpastes gleem. Yet, like Swift, Cody too is a satirist, and her playful haiku cuts with two edges. On the one hand, she points to the absurdity of these word­things. Obviously dish soap, with its connotations of domestic chores, is hardly comparable to dawn, and the unearthly green of the soda has very little to do with mountains or dews of any variety. Her lyric assemblage reminds us just how these commodities have colonized the language of nature, and perhaps just how much more at home we are in the brightly lit aisles of supermarkets rather than any real pastoral meadow or mountain. On the other hand, Cody is operating first and foremost here as an artist of the readymade, seemingly more a consumer than a producer. She is not fundamentally transforming these objects, nor is she highlighting the traditional mimetic skills of the artist to create trompe l'oeil effects. Instead, she presents these objects virtually unchanged, or with as little transformation as an advertising campaign might bring to them. She speaks with them as though she were simply pulling them from her shopping cart–as all who live in consumer cultures inevitably do. American Haiku perfectly formulates the paradox of contemporary cultures of consumption. Consumers encounter a readymade world that requires almost no meaning­making labor, only the magical transformation of the point­of­purchase where everything comes completely refined, assembled, ready­to­eat–fully cooked, as Claude Lévi­Strauss would say. The supermarket replaces the subject of nature and the raw materials that would represent it, the traditional ground of art, and this surely transforms meaning itself. Jean­Paul Sartre offers one of the clearest articulations of the oldest ideas about human meaning and the role of art: "If I fix on canvas or in writing a certain aspect of the fields or the sea or a look on someone's face which I have disclosed, I am conscious of having produced them by condensing relationships, by introducing order where there was none, by imposing the unity of mind on the diversity of things. That is, I feel myself essential in relation to my creation."In Sartre's example, the artist looks on the inexplicable chaos of the natural landscape and labors to make a human meaning through representation. The force of Sartre's formulation, however, is in the contrast between an utterly inhuman earth and the profoundly human construction of meaning out of raw materials that will be used to represent it. The artist labors to make the world meaningful, but that very labor is itself a kind of unity of action linking the inhuman and the human. This link is indexed in the canvas or the poem where we see the struggle of the artist to produce a coherent and meaningful vision; for Sartre, art creates a meaningful relationship to the meaningless, inhuman natural world. Surely Cody's Haiku is utterly different from this, for like everyone in consumer culture, she confronts a world that is already ordered, unnatural, and utterly human; it marks not an essential relationship to an inhuman natural world but the very disappearance of that nature. She finds no inhuman world through which to make Sartre's essential relationship. Moreover, there is little or no labor with raw materials in Cody's work, for she neither fixes on canvas or in rhyme the contours of her encounter. She has not exactly made her haiku; she has found it, and she simply shows it to us as if to show what she has purchased. Taking away the raw materials of art, the traditional subjects of the natural world, and the need for the more traditional labors of making, refining, and ordering, consumer culture strips away the need for those labors that have traditionally made life meaningful. This is true for artists just as it is for almost every aspect of anyone's everyday life where we no longer work directly with raw–or at least not wholly finished–materials. Yet the liquidation of labor in the purchase of readymades is only half the paradox. There is nothing more humanly and fully organized than a store, no place where the artist seems less needed to order experience. At first glance, Cody's Haiku seems perhaps needless, or not really hers. One might think that the role of art here is simply unnecessary. Cody encounters fully­formed and finished commodities with little connection to who made them or how they were made, these commodities appear with meanings already fully formed by brands, advertising, and prescribed uses that have already been determined by others. Cody ironizes this, picking up the fullyformed commodities, taking their brand­names and creating a nature haiku that gestures at the very disappearance of the experience of working with raw materials for the representation of the human in relation to an inhuman landscape. Cody's work suggests that consumers do create meaning out of what they use, but do so in ways that would be almost unrecognizable from Sartre's traditionally humanist perspective. The question of Cody's work is how to make a world meaningful that has already been made. This is put most pivotally in her best known work, American Alphabet. Created from the trademarked fonts, she makes a complete alphabet from the first letters of well­known American corporate brands. American Alphabet demonstrates just how much of the meaning of contemporary life comes ready­made, and how consumer culture provides a kind of overwhelming meaning that the consumer finds as something "given," more accurately promised, something waiting to be bought. The alphabet, the very form we use to spell out the meaning of the world is presented as a privatized, corporate world of meaning that is not made but waiting for us. Also telling is that the American Alphabet is not the fonts of the State but of the corporate world of consumer culture. While there is a playfulness in her work that draws on the cheerfulness and playfulness of the advertising fonts themselves, there is also a much darker allegory about how we make meaning. Something that would seem much closer to a kind of raw material of representation–the alphabet that might express almost anything–is here depicted as a readymade. Each letter carries a wealth of associations from branding and its complex play of fantasy about what life should or might be were we only lucky enough to possess a given detergent or bubblegum. Cody's alphabet suggests that the meaning of American life is spelled out through these commodities, that we write a meaning through what we consume, but the alphabet also clearly shows that those meanings are found waiting for us. Unlike Sartre's artist gazing into the landscape and making a relationship to the inhuman, the American Alphabet shows that the artist, and everyone else, steps into a mediascape of ready­made meaning and must find a way to say something when the very materials of any possible statement are already over­coded with the messages of corporations and brands. This is not just the problem of the consumer but also of producers, for mass production deskills labor, cutting off even the laborer from the very kinds of relationships between raw materials and finished products that make, as traditionally held by Marxists in particular, the final product meaningful. The more mass­production techniques have succeeded, the more finished, ready­made things there are displayed in ever more well­considered orders in ever more stores. Yet the more we encounter these completed things in their ordered ranks on the shelves–the more ready­made we find the world–the more both laborers and consumers have to find new, unprecedented strategies of making meaning. This problem gives rise to two profoundly important and influential forms of modern art that seek a solution to the problems of meaning in consumer culture: the readymade and the collage. Both forms depend on the artist working with materials that are ripped from their context, and, in the case of collage, usually radically fragmented. For instance, there is a fantastic violence of fragmentation in Cody's American Alphabet. While each letter seems simply a readymade in its own right, each letter has been ripped out of the brand name it once spelled, and it is now used as a fragment of a new whole. What makes collage a particularly modern form is just this overt emphasis on the cut, ripped, and fragmented, the way in which collage marks a violence that is so often not made back into a seemingly organic whole but instead emphasizes the fragmented and ready­made status of each element. For instance, a sixteenth­century oil painting might well represent a still­life of many incongruous commodities laying together in an improbable or even violent arrangement, but the perspective of the painting, as well as its unity of materials and techniques, covers over this and makes the work far less disturbing and certainly less fragmented than the modern technique of collage in which radically different elements, materials, and styles are put together, all while leaving the seams to show, emphasizing the very violence of the new arrangement. Material cultures have always produced a flotsam and jetsam of fragments, as both Archaeology and Art History eloquently testify, but not until the twentieth century do collage techniques become widely used to create or reuse these fragments while simultaneously emphasizing their status as ripped, torn, and broken readymades fitted together in new and shocking wholes that, more often than not, emphasize the seams equally with the glue. There are myriad forces and circumstances at work in the invention and development of what we today call collage, and to critically understand its development, it is necessary to wrestle with how the basic element of collage, the fragment, came to be grasped and employed so differently by modern artists. Though modernism is certainly characterized by disjunctions, discontinuity, and confusion–so well emblematized by fragmented art forms and philosophies–perceptions of rupture, dismemberment, and fragmentation structure some of the oldest myths that inform Western thought: Osiris, Orpheus, and the Kabbalah's Shevirah. Despite their ancient status, these myths aptly show us that the anxieties of a divided self and a fractured world are essentially primordial. Indeed, many modernists and postmodernists turn to these three myths to develop their own contemporary experiences of dislocation and alienation. The pervasiveness of these myths cautions against any yearning to imagine that previous eras experienced a comfortingly meaningful and unified world. Yet the cultures that produced these myths of fragmentation and alienation did not produce the kinds of art we most associate with modern expressions of decidedly similar perceptions. The very concept of the fragment implies a dialectic of universal and particular, whole and part. For many theorists, the apprehension of a divided self is one of the most characteristic signs of a modern sensibility cut off from belief in comforting or stable universals. Freud's study of the unconscious, Marx's critique of ideology, and Nietzsche's genealogies all point to a new emphasis on a divided self. Still, older myths of fragmentation reveal a decided difference less in their obviously shared recognitions of that division than in their attempts to frame the meaning of this rupture. Where modernists place the emphasis on the experience of division by foregrounding seemingly irresolvable particulars, these earlier myths acknowledged this fragmentation while striving to resolve it into new universals. The story of Osiris is recorded in the Pyramid Texts, one of the most ancient narratives to survive from Egypt. Though the story undergoes many changes over millennia, most sources agree that Osiris and his sister/wife Isis are the children of the earth god Geb and the sky goddess Nut; together, they rule over Egypt until Osiris's death. While in some texts Osiris drowns in the Nile, in the more popular and enduring version, he is killed by his scheming brother Seth. Seth goes on to dismember Osiris's body, scattering it throughout Egypt. Isis gathers together all the fragments of his body except the phallus, nonetheless conceives a son through them, and Osiris himself becomes a god of the dead–often depicted with green, rotting flesh. Tom Hare argues that we should see in Osiris's dismemberment an allegory for the particularly Egyptian sense of fragmented identity reflected in the elaborate funerary rites of mummification: "The mythical dismemberment of Osiris mimics psychological and semiotic dismemberments constituting (even as they threaten) Egyptian constructions of subjective consciousness."Noting that the different organs of the body represent radically different aspects of the personality, the process of mummification must grasp each organ as something quite separate both metaphorically and literally, and thus "the identification and specification of the individual aspects of the subject suggest their separability, even as pointing to separate parts of the body with logographs in itself suggests the possibility of dismemberment" (23–24). Hare's point is compelling, especially since the story of dismemberment is clearly more resonant for both ancients and moderns. Yet while modern sensibilities tend to favor the drama of the particular, in ancient contexts this perception of a fragmented self is complemented by a dialectic between Osiris's dismemberment and the redemption of its wholeness by Isis. According to R. E. Witt, it is Isis that is the real key to this myth, for "having pieced them together with the magical skill that is particularly hers, she raises Osiris from the dead and bestows upon him eternal life."Thus the Greeks and Romans adopted the mythology of Osiris with the emphasis on Isis's role as healer: "She was esteemed as the model spouse. She was hymned as upholder of the marriage covenant … the tale of Isis and Osiris, whatever the discrepancies of detail, contained just those elements which for later antiquity could serve as the pattern of family bonds of affection" (41). Instead of dwelling on a shattered Osiris, the psychological trauma of his castration and dismemberment is an opportunity for Isis to demonstrate her power to make whole. Nonetheless, such a demonstration is a forceful reminder of its very necessity. There are enough similarities between the mythology of Osiris and the later Greek poet­shaman Orpheus that some scholars believe there is a strong link between them, but whether created independently or sharing an evolutionary link, the story of Orpheus again underscores the ancient sense of a fragmented consciousness that manifests itself in the metaphor of literal dismemberment. Orpheus is thought of first and foremost as a poet and musician, and he is best known for sailing with the Argonauts, using his lyre to triumph over the Sirens, and charming his way into Hades to free his dead lover. He fails to free Eurydice from Hades when, at the last moment, he looks back. Later, he is dismembered at the hands of Thracian Maenads, ecstatic female worshippers of Dionysus. In both his journey to the underworld and his death, there is a marked resonance with Osiris. Yet despite the number of sources that recount these incidents, the particulars of Orpheus and the meaning of his myth remain confused. Was he a priest of Apollo or Dionysus, a musician or a shaman, and was he dismembered in spite of or because of his association with Dionysus? Different sources provide radically different answers to these questions, though the best­known work in English on Orpheus, W. K. C. Guthrie's Orpheus and Greek Religion, suggests these very confusions that characterize Orpheus reflect his status as a divided figure. Informed by both the Apollonian and Dionysian traits, Guthrie observes: "There are times when he seems on the point of becoming merged with the lyre­playing god Apollo, and others when, thinking of his death perhaps, we wonder whether he is only an incarnation of the Thracian Dionysos."The meaning of the Orphic myth is this very division that so powerfully represents a divided subject. However, like Osiris, the figure of Orpheus both engages a vision of a fractured subject while framing it with an emphasis on ultimately greater unity. So while "Orpheus reflects Dionysos, yet at every point seems to contradict him," in most retellings, he ultimately becomes a figure of unity and reconciliation through the power of art, for as his head floats down the river in death, it still speaks poetry, and thus the ancient function of the shaman to bridge the division between this world and the next mediates the fractious drives of a subject divided by the Apollonian and the Dionysian. Indeed, Nietzsche also invokes the ultimate unity of both Apollonian and Dionysian elements. In The Birth of Tragedy, he maintains: "With what astonishment must the Apollonian Greek have beheld him [Dionysus]! With an astonishment that was all the greater the more it was mingled with the shuddering suspicion that all this was actually not so very alien to him after all, in fact, that it was only his Apollonian consciousness which, like a veil, hid this Dionysian world from his vision."Like the myth of Osiris, the emphasis of Orpheus's dismemberment is finally a desire for unity: "His lyre carries the music of universal harmony and eternal response. Seized by the god, he speaks in no one voice of his own; possessed, he loses his selfpossession. Even Apollo must reveal himself to men in poem, oracle, or trance, forms that no mortal finally controls. The mystery unites all opposites, and bursts there where being and nothingness seem to touch. This is why the pure Orphic voice always speaks as one." While both Osiris and Orpheus provide powerful examples of the divided subject, the Kabbalah's shevirah, or breaking of the vessels, offers a powerful allegory of a fallen and fragmented world. Indeed, while many modern and postmodern artists have turned to the myths of Osiris and Orpheus to explain or even structure their work, critics beginning with Walter Benjamin in particular have been drawn to the shevirah. According to Isaac Luria, creation begins with God's essence imagined as light radiating into the pleroma, the space of the universe. Ironically, to set the creation in motion, God performed the act of tsimtsum, or self­limitation, and creation thus begins with God's act of exile. Still, some of the divine light escapes as sparks, called sefiroth, representing divine qualities or potentialities: will, wisdom, intuition, grace, judgment, compassion, eternity, and splendor. Each being has a portion of these lights, called the shekhinah. However, the vessels that are the material world proved too fragile to contain the force of the shekhinah and they shattered, scattering the divine sparks. This rupture, called shevirah, or "the breaking of the vessels," represents a fallen and fragmented universe of particulars sundered from divine unity. The drama of creation becomes the tikkun, the desire to reintegrate the fragments of creation with the unity of God. Gershom Scholem explains that "since that primordial act, all being has been a being in exile, in need of being led back and redeemed. The breaking of the vessels continues into all the further stages of emanation and Creation; everything is in some way broken, everything has a flaw, everything is unfinished."Even more emphatically than the myths of Osiris and Orpheus, the Kabbalah powerfully imagines not only a self but an entire world in fragments. Yet Scholem points out: "The Kabbalists held that every religious act should be accompanied by the formula: this is done 'for the sake of the reunion of God and His Shekhinah'" (108). Like other myths, the shevirah myth acknowledges a divided and ruptured world but frames its meaning in the desire for a unity.
Topics
#Mahsa_Amini
#Salar_Bil
#Salar_Bilehsavarchiyan